What is your number? Understanding your phone usage to improve productivity and connections with those who matter to you most!
Have you stopped to consider just how strong your impulse is to check your phone? Perhaps you are on your phone for much of the day for work? But then there are also times where you don't have to be but it has become a habit to check it anyway. You are not alone.
There is a romance going on between Australians (and let's face it with people all around the world) and their smartphones. We have become so accustomed to filling all the in-between moments in our day with checking our phones.
For many people it's the first thing we do in the morning and the last thing we do before going to bed. Our smartphones are even making their way into the bathroom.
Fun fact for the day – approximately 838 Australians will drop their phone in the loo today according to research from Finder.com.
What are your in-between moments in the day? Waiting for a bus or train or even the lift? The moment before a meeting? The short space between responding to emails? Whilst waiting for the kids to brush their teeth or waiting in line at the supermarket?
Do you find yourself checking your phone during these moments?
Have ever tracked how many times you check your phone during an average work day or weekend?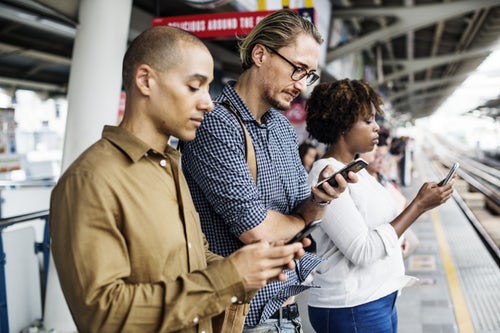 Of course there is an app for it! Well there's a few! Take a moment to download 'Checky' to find out the number of times you hit the home button and check your phone each day or 'Moment' to better understand your phone usage.
On average, Australians are checking their phones 35 times per day according to the Mobile Consumer Survey 2017, Deloitte, Australia.
In order to change a health behaviour or habit, first we must become aware of it, measure & track it!
So here's a challenge if you choose to accept. Track your usage for 7 average days (include a weekend day too). Then on the following week see if you can reduce that number by 5,10, 20 times each day. This may just lead you to feeling more focused and productive at work, more present in your connections with those you love and more relaxed and rejuvenated in your down time!
And how can you be more present in your relationships this Christmas and holiday period? Some phone-free times or screen free days during the holidays?
Let's master the technology rather than allowing it to have mastery over us.
References:
Finder.com
Mobile Consumer Survey 2017, Deloitte Australia
Written by Dr Melanie Woollam (Osteopath & Healthy Lifestyle Advocate, Speaker, Mentor & Director of Body of Life Health Centre)