Dry Needling
Dry Needling is a treatment that uses small filament (acupuncture) needles to release tight muscles with the goal of permanently reducing muscle pain and dysfunction. Dry Needling directly treats the neuromuscular system affecting muscle tightness, joint mobility, and symptoms of pain and irritation.
The application of a dry needle creates a local twitch response (LTR) in the muscle fiber. This release can immediately improve movement, reduce pain and improve function. There is often a significant cramping sensation from the twitch response but then an immediate improvement in the symptoms. Afterwards there may be a general ache in the muscle, similar to the feeling after an intense workout or following a deep massage.
Dry Needling is a very effective form of treatment however still requires in most conditions that the underlying biomechanics be addressed and therefore is used in conjunction with other 'hands on' techniques.
Dry Needling can be used for many conditions including but not limited to:
• Neck or back pain
• Tension type headaches
• Gluteal, rotator cuff, elbow and Achilles tendinopathy
• Piriformis Syndrome
• Sciatica
• Jaw pain
• Groin strain
• Carpal Tunnel Syndrome
• Whiplash disorders
• Shin Splints
Dr Kristy Buist (Osteopath)
B. App. Sc. (Osteo). M. Ost. Member OA
Dr Kristy Buist is a Founding Director and Principal Osteopath at Body of Life Health Centre.
She has always genuinely wanted to help people live their healthiest life, and this led to her discovery and love of Osteopathy. Kristy has extensive experience treating elite athletes from various sporting codes and loves to see her clients perform their best at all times.
She is well known at the clinic for her diagnostic skills, guiding her clients with the best management plan and her strong hands! Kristy will ask the tough questions and enquire about obstacles because she sees the potential in each of her clients to live a healthy and fulfilling life. She loves to educate and inform you so that know how to move forward.
Kristy seems to have more hours in each day and days in the week than the rest of us!  She is a mother of two energetic boys, has completed a Functional Nutritional course at Changing Habits, trains at Cross Fit regularly and still manages to socialise, cook from scratch at home and run the business.
She really is a superstar!
Dr Emma Berry (Osteopath)
B.App.Sc. (Osteo), M. Ost. Member OA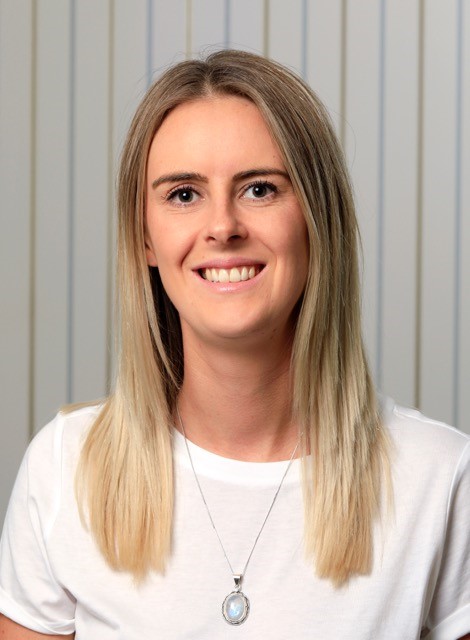 Emma is a wonderful addition to our team and loves the fact that she can go to work and make a difference to someone's life.
She loves to help others, give back and empower people to make positive changes as well as improve their symptoms, functionality and overall health.
Emma enjoys creating a supportive and empathetic space for people to heal and enjoys hearing client's stories and experiences and finding out what they are passionate about.  She aims to make everyone feel that they are heard, acknowledged and supported by their treatment process and believes that Osteopathy is so much more than hands on treatment.
Her favourite way to exercise is by being outdoors either walking, swimming in the ocean, running or bike riding and she loves to meditate and bushwalk.  In her spare time she loves to walk on the beach with her dogs and loves to garden, cook and enjoy a good coffee!
Her favourite TV shows include Suits and Orange is the new black and musically she loves Sticky Fingers, Ocean Alley and Tash Sultana.
The thing that Emma wishes all of her patients did is to understand that a healthy body isn't just about eating well and working out.  It's also about having a healthy mind!
Her favourite motto is "The effect you have on others is the most valuable currency you have".
Dr Alexander Douglas (Osteopath)
B.HSc. B App.Sc (Osteo) B.A (Media & Cultural Studies)
We are thrilled to welcome Alex Douglas to Body of Life.
Alex loves working as an Osteopath to act as a guide to help you improve your function and decrease musculoskeletal pain levels through evidence based treatment and advice. Alex has found great humility in the awareness and ability to help and guide you when you are at the mercy of your pain. Alex provides a personalised and individualised approach. He likes to be able to fully understand the whys and hows of your specific set of symptoms as no two bodies are the same. You will leave your consult feeling empowered with a diagnosis, a plan and hopefully moving much better!
From a background and love of sport, Alex enjoys treating sporting injuries, back pain and neck pain and helping you return to the things you love doing! Alex will encourage you to keep moving and believes this is key to having happy and healthy joints and muscles!
In his downtime, Alex stays active with a run or a swim followed by a coffee in the morning or a craft beer in the evening! Alex likes listening to Led Zeppelin, Kendrick Lamar, David Bowie and Flight of the Conchords amongst others and loves comedy alongside his love of live music.
Alex's favourite quote is  – "It does not matter how slowly you go as long as you do not stop."  Confucius
Dr Bryony Sullivan (Chiropractor)
B. Chiro Sc., M. Chiro.
Welcome to Bryony Sullivan our new Chiropractor at Body of Life!
Bryony is a local from the Northern Beaches and loves Chiropractic because she knows the value of 'hands-on-therapy' and the power of touch. Bryony is passionate, energetic, highly personable and you will instantly feel safe, comfortable and inspired by her warm approach. Her excellent diagnostic and communication skills allow her to assess, diagnose and communicate the cause of your pain and provide a management plan for not just 'treating the injury' but inspiring you towards greater health and wellbeing. Bryony enjoys taking you from a place of despair about your current injury to helping  you have a renewed relationship to your body as you see how your body is capable of repair and healing.
Bryony's favourite quote is "There is a voice that doesn't use words. Listen." Rumi. If you having been looking for a health professional to really listen and understand what you have been going through with your pain or injury…you will just love Bryony!
Bryony feels refreshed when out in nature, taking her dog for a swim or walking in the bush… or perhaps doing a yoga class! And if not out exercising or preparing a healthy meal, you might find her in a second hand bookstore in a cosy armchair reading a novel!
Dr Erin Martin (Osteopath)
B.HSc. B.App.Sc (Osteo)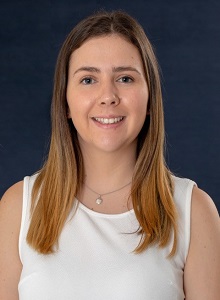 Erin is a fantastic addition to our Body of Life team as an Osteopath and we are fortunate she has crossed the border to NSW from Victoria!  Erin gains great satisfaction from impacting another person's life in a positive way and she does this with every client she meets! You will instantly feel at ease, supported and informed with Erin.
Erin provides a thorough assessment and 'hands-on treatment' as well as educating you regarding your condition. Erin is always looking for how to prevent the recurrence of an injury through changing work ergonomics or by providing an individualised exercise program. She always aims for you to regain confidence in performing your day to day activities as soon as possible, whether it be gardening, playing with your children (or grandchildren) or returning to your favourite sport.
Erin keeps fit and healthy by going to the gym herself and participating in group classes like Body Pump and high-intensity interval training (HIIT).  She also enjoys taking her very energetic dalmatian for a walk!  In her downtime, Erin loves spending time with family and friends, discovering a great new coffee shop or watching an episode of Grey's Anatomy.
Her favourite quote is "It always seems impossible until it's done".  Nelson Mandela
To book an appointment with an Osteopath or Chiropractor for Dry Needling call
Dry Needling Frequently asked questions
How long will it take?
Please arrive 5-10 minutes early to fill in some paperwork and allow up to one hour for your initial visit. Dry needling is performed within an osteopathic or chiropractic consultation.
What should I bring?
Please bring any relevant previous scans (xrays, CT scans or MRIs) and your health insurance card if you would like to claim on the spot with our HICAPS facility.
What will happen during the first visit?
Your osteopath or chiropractor will ask you a range of questions about your complaint and general health. They will then perform an assessment and provide you with an explanation of what may be going on. They will suggest a plan of action for how to manage the complaint, prevent further recurrences and how to help you live your healthiest and best life. They will then usually provide some 'hands on' treatment, dry needling if it is appropriate during the first visit and recommend when you return for your next session.
What should I wear?
We often require you to change into a provided gown with your underwear or you may choose to wear a loose fitting pair of shorts. We will ensure you are warm and comfortable.
How many consultations are usually required?
There is no set answer as every person is different and every complaint presents slightly differently. For most complaints three of four visits is sufficient to reduce pain, improve mobility, provide education and give advice on reducing aggravating factors and improve overall health and well-being.
For more chronic conditions, complex injuries or where pre-existing health issues determine a slower healing time, perhaps more treatment will be required.
Will I require ongoing treatment?
For most people, once the injury has healed or the health complaint improved no ongoing treatment is required. However we live in a less than ideal world. Our lives are often either sedentary or the complete opposite; there are physical and emotional demands that exceed our body's capacity. Therefore a 'tune up' or 'check up' is a great way to maintain good health. The frequency of these 'tune-ups' will depend on a number of factors and can be discussed with your osteopath or chiropractor. There is no obligation for ongoing treatment.
Is Dry Needling painful?
There is often a significant cramping sensation from the application of the needle which causes a twitch response in the muscles. This is then often followed by an immediate improvement in the symptoms. Afterwards there may be a general ache in the muscle, similar to the feeling after an intense workout or following a deep massage.
Are there any side effects?
The most common side effect is muscle soreness after the twitch response. This may last for 24-48 hours and your osteopath or chiropractor will discuss how to minimise this after your treatment. A less common side effect is bruising. Please ask any questions prior to treatment.
Will I be able to train, play sport or exercise afterwards?
Your osteopath or chiropractor will be able to guide you with what do to after your dry needling. In most cases we advise 'normal activity' but not strenuous exercise for 24-48 hours afterwards.
What if I don't feel like dry needling in a session?
Your osteopath or chiropractor will always check with you before using dry needling in your treatment. Sometimes if you are not feeling 100%, or are about to exercise or play sport you may not want dry needling. That's ok. We can utilize a range of other techniques to decrease your pain and improve your mobility. Clear communication is always the key.
Are there any reasons why I shouldn't have dry needling?
There are some situations where we will not perform dry needling. These may include during pregnancy (particularly the first trimester), if you have metal allergies, implants, axillary or inguinal node dissection, if you have had recent surgery or have a needle phobia.
Body of Life Health Centre is a provider of excellence in health services and education,
servicing the Northern Beaches and North Shore.
We exist to equip you to live your healthiest and best life. We are a multidisciplinary team of health practitioners that provide a range of services to you, your family and the local community.

Book in with an Osteopath, Chiropractor, Massage Therapist, Acupuncturist or visit us for Dry Needling, Traditional Chinese Medicine, Holistic Nutrition, Psychology and Health & Wellness Coaching. 
We inspire, equip, educate and support our clients on the Northern Beaches and North Shore to make the changes they need to feel their best!