Our Team
Our dedicated team of health professionals provide multidisciplinary health care services and education to individuals, families and communities. We value professionalism and excellence, and our team are all members of their respective professional association and are committed to continuing their professional development in addition to compulsary requirements.
Together our team are passionate about inspiring, equipping and supporting you to live your healthiest and best life.
Click on the photos below to meet our team. 
Dr Kristy Buist (Osteopath)
B. App. Sc. (Osteo). M. Ost. Member OA
Dr Kristy Buist is a Founding Director and Principal Osteopath at Body of Life Health Centre.
She has always genuinely wanted to help people live their healthiest life, and this led to her discovery and love of Osteopathy. Kristy has extensive experience treating elite athletes from various sporting codes and loves to see her clients perform their best at all times.
She is well known at the clinic for her diagnostic skills, guiding her clients with the best management plan and her strong hands! Kristy will ask the tough questions and enquire about obstacles because she sees the potential in each of her clients to live a healthy and fulfilling life. She loves to educate and inform you so that know how to move forward.
Kristy seems to have more hours in each day and days in the week than the rest of us!  She is a mother of two energetic boys, has completed a Functional Nutritional course at Changing Habits, trains at Cross Fit regularly and still manages to socialise, cook from scratch at home and run the business.
She really is a superstar!
Dr Alexander Douglas (Osteopath)
B.HSc. B App.Sc (Osteo) B.A (Media & Cultural Studies)
We are thrilled to welcome Alex Douglas to Body of Life.
Alex loves working as an Osteopath to act as a guide to help you improve your function and decrease musculoskeletal pain levels through evidence based treatment and advice. Alex has found great humility in the awareness and ability to help and guide you when you are at the mercy of your pain. Alex provides a personalised and individualised approach. He likes to be able to fully understand the whys and hows of your specific set of symptoms as no two bodies are the same. You will leave your consult feeling empowered with a diagnosis, a plan and hopefully moving much better!
From a background and love of sport, Alex enjoys treating sporting injuries, back pain and neck pain and helping you return to the things you love doing! Alex will encourage you to keep moving and believes this is key to having happy and healthy joints and muscles!
In his downtime, Alex stays active with a run or a swim followed by a coffee in the morning or a craft beer in the evening! Alex likes listening to Led Zeppelin, Kendrick Lamar, David Bowie and Flight of the Conchords amongst others and loves comedy alongside his love of live music.
Alex's favourite quote is  – "It does not matter how slowly you go as long as you do not stop."  Confucius
Natasha Grabham (Psychologist)
MSoc Hlth(Psych) PG Dip(Psych) BSc(Psych) Assoc. MAPS
Natasha Grabham is a Registered Psychologist who is professional, experienced, respectful and caring. She has extensive experience in working with adult psychiatric illness and childhood/adolescent developmental and psychological disorders. In addition to private practice, Natasha works for a private psychiatric facility at St John of God Health Care, Richmond where she is the Deputy Director of Allied Health and a Senior Psychologist.
Natasha is an Associate Member of the Australian Psychological Society and is an approved counsellor for Veterans and Veterans Families Counselling Service (VVCS), WorkCover NSW, and Garrison Health Services (ADF).
Natasha is a registered treatment provider for Medicare and Department of Veterans Affairs (DVA), and is an approved supervisor with the Psychology Board of Australia.
At Body of Life Health Centre, she sees individuals and couples for a wide range of mental health difficulties including trauma, depression, loss & grief, self esteem, personality disorders, interpersonal issues, relationship issues and older age psychology.
She also performs standardised psychometric evaluation of intellectual ability for children 6 -16 years of age.  Natasha draws from her experience of various evidence-based therapeutic modalities and approaches to tailor treatment plans to individual needs.
Natasha offers a warm and respectful approach. She will ensure that you feel heard and acknowledged, with the ultimate aim of supporting your journey to improve your wellbeing and quality of life.
Dr Bryony Sullivan (Chiropractor)
B. Chiro Sc., M. Chiro.
Welcome to Bryony Sullivan our new Chiropractor at Body of Life!
Bryony is a local from the Northern Beaches and loves Chiropractic because she knows the value of 'hands-on-therapy' and the power of touch. Bryony is passionate, energetic, highly personable and you will instantly feel safe, comfortable and inspired by her warm approach. Her excellent diagnostic and communication skills allow her to assess, diagnose and communicate the cause of your pain and provide a management plan for not just 'treating the injury' but inspiring you towards greater health and wellbeing. Bryony enjoys taking you from a place of despair about your current injury to helping  you have a renewed relationship to your body as you see how your body is capable of repair and healing.
Bryony's favourite quote is "There is a voice that doesn't use words. Listen." Rumi. If you having been looking for a health professional to really listen and understand what you have been going through with your pain or injury…you will just love Bryony!
Bryony feels refreshed when out in nature, taking her dog for a swim or walking in the bush… or perhaps doing a yoga class! And if not out exercising or preparing a healthy meal, you might find her in a second hand bookstore in a cosy armchair reading a novel!
Louise Henderson (Women's Health Physiotherapist)
Joining the team at Body of Life is like coming home for Louise who grew up in Belrose.
Louise graduated from physiotherapy in 1988 and over the years developed an interest for women's health, undertaking many courses in the area and eventually leading to her Masters in Continence and Women's Health Physiotherapy.
Louise is passionate about improving the quality of life of women affected by pelvic floor dysfunction – whether that be a new mum returning safely to the gym, a golfer completing 18 holes without panicking about the distance to the bathroom, or reducing the night time toilet visits of an older person.
Away from the clinic, Louise enjoys swimming, walking, reading and watching sport – especially her beloved Sydney Swans.
Louise's wish for her patients – find out from her how to do your pelvic floor exercises properly and do them daily!
Dr Emma Berry (Osteopath)
B.App.Sc. (Osteo), M. Ost. Member OA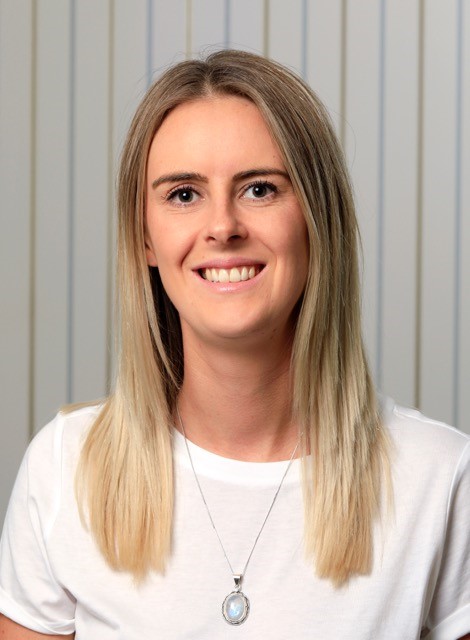 Emma is a wonderful addition to our team and loves the fact that she can go to work and make a difference to someone's life.
She loves to help others, give back and empower people to make positive changes as well as improve their symptoms, functionality and overall health.
Emma enjoys creating a supportive and empathetic space for people to heal and enjoys hearing client's stories and experiences and finding out what they are passionate about.  She aims to make everyone feel that they are heard, acknowledged and supported by their treatment process and believes that Osteopathy is so much more than hands on treatment.
Her favourite way to exercise is by being outdoors either walking, swimming in the ocean, running or bike riding and she loves to meditate and bushwalk.  In her spare time she loves to walk on the beach with her dogs and loves to garden, cook and enjoy a good coffee!
Her favourite TV shows include Suits and Orange is the new black and musically she loves Sticky Fingers, Ocean Alley and Tash Sultana.
The thing that Emma wishes all of her patients did is to understand that a healthy body isn't just about eating well and working out.  It's also about having a healthy mind!
Her favourite motto is "The effect you have on others is the most valuable currency you have".
Dr Erin Martin (Osteopath)
B.HSc. B.App.Sc (Osteo)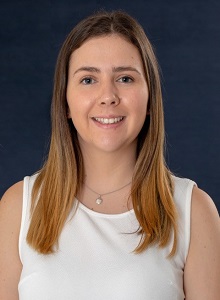 Erin is a fantastic addition to our Body of Life team as an Osteopath and we are fortunate she has crossed the border to NSW from Victoria!  Erin gains great satisfaction from impacting another person's life in a positive way and she does this with every client she meets! You will instantly feel at ease, supported and informed with Erin.
Erin provides a thorough assessment and 'hands-on treatment' as well as educating you regarding your condition. Erin is always looking for how to prevent the recurrence of an injury through changing work ergonomics or by providing an individualised exercise program. She always aims for you to regain confidence in performing your day to day activities as soon as possible, whether it be gardening, playing with your children (or grandchildren) or returning to your favourite sport.
Erin keeps fit and healthy by going to the gym herself and participating in group classes like Body Pump and high-intensity interval training (HIIT).  She also enjoys taking her very energetic dalmatian for a walk!  In her downtime, Erin loves spending time with family and friends, discovering a great new coffee shop or watching an episode of Grey's Anatomy.
Her favourite quote is "It always seems impossible until it's done".  Nelson Mandela
Dr Joy Brown (TCM)
Dr of Traditional Chinese Medicine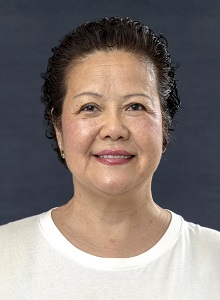 Joy is a lovely addition to our team at Body of Life Health Centre providing Remedial Massage, Acupuncture and Chinese Medicine.  Joy has an absolute passion for helping people and is well experienced and qualified as an AHPRA registered Traditional Chinese Medicine Practitioner and AMT registered Massage Therapist.
Her favourite way to exercise is by line dancing and if that is to her favourite Country music she is really happy.  Joy also has a great sense of humour enjoying Everybody Loves Raymond and loves to relax whilst listening to music and reading.  Her ideal getaway is of course China!
Joy had the excitement of being part of the Olympic Massage team at the Hombebush Aquatic Centre and Olympic Village in the 2000 Olympics and really enjoyed being part of the team.
At Body of Life Health Centre, she prides herself on her professional standards and is particularly interested in Frozen Shoulder, Stress and Anxiety, Back Pain, Headaches, Menopause and Chronic Fatigue.
Danielle Hui (Massage Therapist)
Diploma Remedial Massage, Member ATMS
Danielle absolutely loves being a Remedial Massage Therapist and believes her role is to assist and 'educate' clients to be fully aware of the need to care for ones well-being holistically (mentally, psychologically, physically).
Danielle encourages clients to learn to let go & relax during a therapy session and by doing this knows that they will gain the most from it. She loves meeting new clients and learning about them, understanding them, respecting them and helping them.
Danielle's favourite ways to exercise include dancing, swimming and beach walking whilst listening to the surf. She is not into reality TV at all but loves her music and you will often find her listening to an eclectic mix of Pop, Fusion, Jazz, Blues or Indy!  She also loves loves singing, reading, meditating, watching a movie or catching up with friends.
Danielle wants her clients to know that she loves, believes in and is passionate & genuinely cares about her job and her favourite quote's reflect this :  Never say never…
Life is an adventure, dare it…Life is a journey not a destination…Decision in a heartbeat… Learn from yesterday, live for today…Remember we are all but travellers here…Find happiness in making others happy…Be eager in your desires but humbly patient in the accomplishments…
Her ideal getaway would be travelling along the coast of Australia or flying or cruising to any awesome destination!
Jo-Anne McAllister (Practice Manager)
Jo-Anne truly believes that work is always about the people she works with and the feel of the place or first impressions. From her first encounter with Body of Life she has always felt welcomed and valued and loves that fact that our clients do too.
Jo-Anne has spent a lot of her time in the dental sector of health and very much enjoys being part of the health industry. During this time she has moved between management roles, operations and more recently as a Practice Manager at a large dental centre before joining us at Body of Life.
Her favourite way to exercise is by walking all the time and swimming in summer and chasing her grandchildren!  Her favourite TV shows include anything that covers real-life crime and she loves anything to do with food, cooking, eating, discovering new foods and restaurants. She also quilts and patchworks as well when she is not spending time with family and friends.
Her idea of travel would be anywhere as long as there is the sun, a beach and good food and her favourite quote is "The trouble with people at the moment is not that we aim high and fail but we aim low and succeed".
Karyn Miles (Receptionist)
Karyn joined Body of Life on a temporary basis to help out the reception team one day a week for a while and then we found we could not let her go!  She loves helping people which is why she started her career in nursing and midwifery.  Karyn knows a lot about a lot of things from her impressive career as a nurse, midwife and business analyst combined with her love of science and medical documentaries.
We love having Karyn on our team because her motto is 'If you're going to do it, do it properly' and she is an absolute dynamo in the clinic!
When she is not with us at Body of Life she loves caring for her grandchildren, spending time with family or friends, sewing, cooking or enjoying the Australian countryside.
Body of Life Health Centre is a provider of excellence in health services and education,
servicing the Northern Beaches and North Shore.
We exist to equip you to live your healthiest and best life. We are a multidisciplinary team of health practitioners that provide a range of services to you, your family and the local community.

Our services include Osteopathy, Chiropractic, Dry Needling, Massage, Acupuncture, Traditional Chinese Medicine, Holistic Nutrition, Psychology and Health & Wellness Coaching. 
We inspire, equip, educate and support you to make the changes you need to feel your best!