Our Team
Our dedicated team of health professionals provide multidisciplinary health care services and education to individuals, families and communities. We value professionalism and excellence, and our team are all members of their respective professional association and are committed to continuing their professional development in addition to compulsary requirements.
Together our team are passionate about inspiring, equipping and supporting you to live your healthiest and best life.
Click on the photos below to meet our team. 
Dr Kristy Buist (Osteopath)
B. App. Sc. (Osteo). M. Ost. Member OA
Dr Kristy Buist is a Founding Director and Principal Osteopath at Body of Life Health Centre.
She has always genuinely wanted to help people live their healthiest life, and this led to her discovery and love of Osteopathy. Kristy has extensive experience treating elite athletes from various sporting codes and loves to see her clients perform their best at all times.
She is well known at the clinic for her diagnostic skills, guiding her clients with the best management plan and her strong hands! Kristy will ask the tough questions and enquire about obstacles because she sees the potential in each of her clients to live a healthy and fulfilling life. She loves to educate and inform you so that know how to move forward.
Kristy seems to have more hours in each day and days in the week than the rest of us!  She is a mother of two energetic boys, has completed a Functional Nutritional course at Changing Habits, trains at Cross Fit regularly and still manages to socialise, cook from scratch at home and run the business.
She really is a superstar!
Dr Kate Major (Osteopath)
M.Ost. Member OA
Kate is a Kiwi and recently decided to come to our wonderful country to expand her horizons.  She loves Sydney life, particularly being able to explore our wonderful city and discover beaches where she can indulge her love of Scuba Diving and keeping active.  She absolutely loves high energy activity and you will often find her in the gym but she also loves discovering new cafes and restaurants so has a balanced approach to her life!
In her capacity as an Osteopath Kate believes that when we injure ourselves or have ongoing or debilitating pain we tend to lose our confidence in our bodies and our ability to perform certain tasks.  She loves helping clients regain that confidence in their bodies and get back into activities they once enjoyed or helping them to perform new activities that they never thought that they would!  Kate always encourages her patients to move and keep active because the simple impact of an exercise or stretch can make recovery time so much shorter.
Her favourite motto is "Believe you can and you're halfway there"  – Theodore Roosevelt.  Something we should all do!
Danielle Hui (Massage Therapist)
Diploma Remedial Massage, Member ATMS
Danielle absolutely loves being a Remedial Massage Therapist and believes her role is to assist and 'educate' clients to be fully aware of the need to care for ones well-being holistically (mentally, psychologically, physically).
Danielle encourages clients to learn to let go & relax during a therapy session and by doing this knows that they will gain the most from it. She loves meeting new clients and learning about them, understanding them, respecting them and helping them.
Danielle's favourite ways to exercise include dancing, swimming and beach walking whilst listening to the surf. She is not into reality TV at all but loves her music and you will often find her listening to an eclectic mix of Pop, Fusion, Jazz, Blues or Indy!  She also loves loves singing, reading, meditating, watching a movie or catching up with friends.
Danielle wants her clients to know that she loves, believes in and is passionate & genuinely cares about her job and her favourite quote's reflect this :  Never say never…
Life is an adventure, dare it…Life is a journey not a destination…Decision in a heartbeat… Learn from yesterday, live for today…Remember we are all but travellers here…Find happiness in making others happy…Be eager in your desires but humbly patient in the accomplishments…
Her ideal getaway would be travelling along the coast of Australia or flying or cruising to any awesome destination!
Dr Alex Kleydish (Osteopath)
B. App. Sc. (Osteo). M. Ost. Member OA
Alex is a registered Osteopath and has been a valuable part of the team at Body of Life for over six years. She has always been interested in the body and the way it works. Alex suffered from headaches when she was young and she always thought there had to be a better way to explain and manage the pain. This led her to discover Osteopathy.
Alex is passionate about helping people to understand their condition or pain in order to move forward and enjoy life again. She is a brilliant communicator and is best known at the clinic for saying 'Welcome to the torture chamber' and having the treatment room with the most laughter!
In her spare time, she is at the gym, playing netball, spending time with friends or travelling overseas (when we let her go on holidays)!
Alex enjoys treating people of all ages, from all walks of life, with a wide variety of injuries and conditions.
Dr Erin Martin (Osteopath)
B.App.Sc. (Osteo), M. Ost. Member OA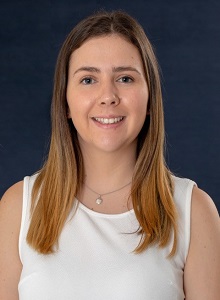 Erin is a fantastic addition to our Body of Life team as an Osteopath and we are fortunate she has crossed the border to NSW from Victoria!  Erin gains great satisfaction from impacting another person's life in a positive way and she does this with every client she meets! You will instantly feel at ease, supported and informed with Erin.
Erin provides a thorough assessment and 'hands-on treatment' as well as educating you regarding your condition. Erin is always looking for how to prevent the recurrence of an injury through changing work ergonomics or by providing an individualised exercise program. She always aims for you to regain confidence in performing your day to day activities as soon as possible, whether it be gardening, playing with your children (or grandchildren) or returning to your favourite sport.
Erin keeps fit and healthy by going to the gym herself and participating in group classes like Body Pump and high-intensity interval training (HIIT).  She also enjoys taking her very energetic dalmatian for a walk!  In her downtime, Erin loves spending time with family and friends, discovering a great new coffee shop or watching an episode of Grey's Anatomy.
Her favourite quote is "It always seems impossible until it's done".  Nelson Mandela
Chris Aysom (Massage Therapist)
Diploma Remedial Massage, Member AMT
Chris loves the fact that he gets to help people feel better and resolve issues of pain and discomfort with Remedial Massage.  He also would like to think that every massage therapist gets to be known for their magic hands!
Chris truly enjoys working on his fitness and has been involved in CrossFit for several years now.  He has found that strength training, particularly unilateral work is very important in supporting his role as a massage therapist.
He likes to watch sport – rugby league, rugby union and mixed martial arts and enjoys listening to podcasts whilst he drives. He is currently studying to be a Chiropractor at Macquarie University which takes up a lot of his spare time.  Outside of University he enjoys spending time with loved ones and his dog.
If he could wish one thing it would be that people, in general, would understand that soft tissue maintenance is always beneficial, not just when something hurts!
His ideal getaway would be Las Vegas but closer to home Chris enjoys visiting some of the amazing camping destinations that NSW has to offer.
Chris' favourite quote is – "Effort is a choice – Max El-Hag".
Jo-Anne McAllister (Practice Manager)
Jo-Anne truly believes that work is always about the people she works with and the feel of the place or first impressions. From her first encounter with Body of Life she has always felt welcomed and valued and loves that fact that our clients do too.
Jo-Anne has spent a lot of her time in the dental sector of health and very much enjoys being part of the health industry. During this time she has moved between management roles, operations and more recently as a Practice Manager at a large dental centre before joining us at Body of Life.
Her favourite way to exercise is by walking all the time and swimming in summer and chasing her grandchildren!  Her favourite TV shows include anything that covers real-life crime and she loves anything to do with food, cooking, eating, discovering new foods and restaurants. She also quilts and patchworks as well when she is not spending time with family and friends.
Her idea of travel would be anywhere as long as there is the sun, a beach and good food and her favourite quote is "The trouble with people at the moment is not that we aim high and fail but we aim low and succeed".
Hannah Elmes (Receptionist)
We are so excited to have Hannah join our incredibly gifted reception team.  You will instantly feel welcomed and cared for by Hannah's smile and gentle manner.
Hannah loves being a receptionist at Body of Life because it combines her love of people and healthcare.
She is currently studying Pilates as she really believes that this form of exercise can help people to avoid injuries and pain and they can then live their best life.
Hannah's favourite way to exercise is doing cardio HIIT classes at her local gym and working on her strength in Pilates and dancing.
You can often hear her listening to Ed Sheeran when she is not dancing or doing Pilates and outside of these activities she loves to spend time with her family and watch movies.
Hannah's favourite quote is "What if I fall, but my darling what if you fly?".
Karyn Miles (Receptionist)
Karyn joined Body of Life on a temporary basis to help out the reception team one day a week for a while and then we found we could not let her go!  She loves helping people which is why she started her career in nursing and midwifery.  Karyn knows a lot about a lot of things from her impressive career as a nurse, midwife and business analyst combined with her love of science and medical documentaries.
We love having Karyn on our team because her motto is 'If you're going to do it, do it properly' and she is an absolute dynamo in the clinic!
When she is not with us at Body of Life she loves caring for her grandchildren, spending time with family or friends, sewing, cooking or enjoying the Australian countryside.
Body of Life Health Centre is a provider of excellence in health services and education,
servicing the Northern Beaches and North Shore.
We exist to equip you to live your healthiest and best life. We are a multidisciplinary team of health practitioners that provide a range of services to you, your family and the local community.

Our services include Osteopathy, Chiropractic, Dry Needling, Massage, Acupuncture, Traditional Chinese Medicine, Holistic Nutrition, Psychology and Health & Wellness Coaching. 
We inspire, equip, educate and support you to make the changes you need to feel your best!