TCM (Traditional Chinese Medicine)
With a history of 2000 to 3000 years, Traditional Chinese Medicine (TCM) has formed a unique system to diagnose and cure illness. The TCM approach is fundamentally different from that of Western medicine. In TCM, the understanding of the human body is based on the holistic understanding of the universe as described in Daoism, and the treatment of illness is based primarily on the diagnosis and differentiation of syndromes.
Health is more than just the absence of disease, and TCM recognises this with its unique capacity to harmonise and enhance our capacity for enjoyment fulfillment and happiness.
As TCM is an ancient system of health care it has undergone continual development over the centuries as the causes of illness that afflict human beings have evolved. In its country of origin it is not an alternative form of therapy, but is used in the state hospitals alongside modern medicine.
TCM is a complete medical system that is capable of treating disease in all its forms. Although your practitioner will treat whatever complaint you have come for, the traditional view places great importance on preventing disease before it occurs.  Our practitioner works with you to understand the areas that concern you and puts together a treatment schedule that is bespoke to you.
TCM consists of:
herbal therapy
remedial massage
acupuncture
dietary therapy
exercise
lifestyle management
Some or several of these may be employed in the course of your treatment.
Our practitioner is AHPRA registered and is a member of ATMS.
To answer more of your questions about TCM visit FAQ here.
Meet our Dr of Traditional Chinese Medicine
Dr Joy Brown (TCM)
Dr of Traditional Chinese Medicine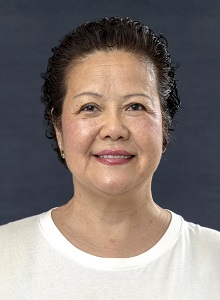 Joy is a lovely addition to our team at Body of Life Health Centre providing Remedial Massage, Acupuncture and Chinese Medicine.  Joy has an absolute passion for helping people and is well experienced and qualified as an AHPRA registered Traditional Chinese Medicine Practitioner and AMT registered Massage Therapist.
Her favourite way to exercise is by line dancing and if that is to her favourite Country music she is really happy.  Joy also has a great sense of humour enjoying Everybody Loves Raymond and loves to relax whilst listening to music and reading.  Her ideal getaway is of course China!
Joy had the excitement of being part of the Olympic Massage team at the Hombebush Aquatic Centre and Olympic Village in the 2000 Olympics and really enjoyed being part of the team.
At Body of Life Health Centre, she prides herself on her professional standards and is particularly interested in Frozen Shoulder, Stress and Anxiety, Back Pain, Headaches, Menopause and Chronic Fatigue.
Frequently Asked Questions
What is Chinese herbal medicine?
Traditional Chinese herbal medicine uses over 10,000 substances that come from plant, animal and mineral sources. These substances have been used in ancient times and a powerful medical system has been established which includes the use of herbal formulas which are seen to address various health concerns. Most Chinese herbal medicine requires a prescription from a licensed Chinese herbal practitioner, although there are some "over the counter" type herbs that are sometimes available without a prescription.
What are the advantages of taking Chinese herbal medicine?
Combining natural herbs with acupuncture treatments may help in tandem by addressing circulation and other symptoms of internal organs. Herbal medicines are a natural alternative to synthetic pharmaceutical drugs that potentially cause serious side effects.
What do Chinese herbs taste like?
Chinese herbal formulas have various tastes depending on your body type and condition. Herbal substances have many different flavors: sweet, sour, bitter, spicy, bland. It is the jobof the Chinese herbal practitioner to choose a combination of tastes that will suit your body the best.
How do I take Chinese herbs?
Chinese herbs are prescribed in customised formulas. Formulas consist of carefully combined herbs which come in various forms: capsules, raw herbs, concentrated herbal powders made into tea, tablets and tinctures. At Body of Life Health Centre our TCM practitioner generally prescribes capsules for ease and convenience of taking them. It also makes it easier to continue your herbs when travelling away from home. The prescriptions are tailored to you and your own body to get the most optimal results.
What are the conditions addressed by Chinese herbal medicine?
Being the first established medical system in the world, Traditional Chinese Medicine has been used for over 3000 years for all types of illnesses. Herbal medicine is known in treating internal conditions that involve imbalances in circulation, respiratory problems, weakened immune systems, fluid retention or deficiencies, emotions, gynecological and menopausal conditions and digestive complaints. Chinese herbal medicines are not exclusively for those that feel they have medical conditions or complaints; they are commonly used also in maintaining health and longevity of all ages, and athletes looking to improve their performance naturally.
Are Traditional Chinese medicine herbs effective in treating digestive disorders?
Chinese herbs may be effective in treating various types of digestive complaints: bloating, nausea, constipation, diarrhea, gas, heartburn and others. Often this is the symptom that is relieved most readily when beginning acupuncture treatments.
Is it possible to combine Chinese herbal treatments with pharmaceuticals and other conventional medicines?
Yes, Chinese herbs can be taken along with western herbs, homeopathic medicines, vitamins, minerals and pharmaceutical drugs as long as they are checked by your practitioner. From the initial intake, we will create a custom formula and may advise you to take the herbs at a separate time than your other medicines. To ensure effective and safe treatment, patients should inform Western medical physicians of the herbs they are taking as well as inform their herbalist of any prescription medicines being used.
Is TCM covered by private health insurance?
Yes, if you have Extras cover, however the rebate will depend on the type of cover and the fund you are with. Bring your private health fund card and we can process your health fund payment at the time of consultation with HICAPS.
How do I know that Chinese herbs are safe for me to take?
Chinese medicinal herbs are the most safe when prescribed by a trained herbalist. Herbalists undergo in depth training regarding appropriate dosages and combinations of single herbs in order to create a formula that suits you. Herbal medicines are chosen from trustworthy companies that are certified as having firm Good Manufacturing Practices (GMP), and testing for heavy metals, pesticides and herbicides.
Are there side effects from taking Chinese herbs?
Chinese herbs are appealing because of their low risk of side effects. The most common side effects are digestive upsets and gas/bloating depending on the body's ability to digest the herbs. Taking the formula after a meal may alleviate these symptoms in most cases. Choosing herbal combinations based on your body and conditions is important to prevent the possibility of any negative side effects.
Body of Life Health Centre is a provider of excellence in health services and education,
servicing the Northern Beaches and North Shore.
We exist to equip you to live your healthiest and best life. We are a multidisciplinary team of health practitioners that provide a range of services to you, your family and the local community.

Book in to see an Osteopath, Psychologist, Massage Therapist, Acupuncturist or Dr of Chinese Medicine with us because we can support you to make the changes you need to feel your best!