Massage is perhaps one of the oldest healing traditions.  Many cultures including the Ancient Greeks, Chinese and Indians were convinced of the theraputic properties of massage and used it to treat a variety of ailments.
Massage is the use of the hands to manipulate the soft tissue of the body to reduce muscle tension, maintain flexibility and improve circulation. Massage is especially effective in breaking compensatory pain postures and patterns. For example, a tension headache is often self-sustaining because the pain makes the person clench the affected muscles even harder, which, in turn, creates more pain. A thorough neck and shoulder massage can reduce muscle tension and break the pain cycle.
One of the immediate benefits of massage is a feeling of deep relaxation and calm. This occurs because massage prompts the release of endorphins – the brain chemicals (neurotransmitters) that produce feelings of wellbeing. Levels of stress hormones, such as adrenalin, cortisol and norepinephrine, are also reduced. Studies indicate that high levels of stress hormones impair the immune system.
Some of the physical benefits of massage may include:
Improved circulation
Stimulation of the lymphatic system
Reduction of stress hormones
Increased joint mobility and flexibility
Improved skin tone
Improved recovery of soft tissue injuries
Heightened mental alertness
Reduced anxiety and depression.
Improved sleep.
Typically, the massage practitioner uses oil or alternatively, provides the massage over a thin piece of cloth for the same effect.
Different types of massage available in the clinic are:
Remedial – encourages healing of injured soft tissue, such as muscles, tendons and ligaments.
Sports Massage – pre event massage for enhanced performance or post event massage for recovery
Relaxation – also known as 'Swedish' massage. One of the most popular forms of massage in Australia, this technique is designed to promote relaxation and improve blood circulation
Reflexology – a system of massage used to relieve tension and treat illness, based on the theory that there are reflex points on the feet, hands, and head linked to every part of the body.
Chinese – an oriental massage technique using Acupressure that aims to improve energy flow by working on certain points on the body. The underlying principles of Chinese massage are similar to those of acupuncture.
All health funds are covered and our massage therapist is registered for Work Cover.
To answer more of your questions about Massage visit FAQ here.
Meet our Massage Therapists
Danielle Hui (Massage Therapist)
Diploma Remedial Massage, Member ATMS
Danielle absolutely loves being a Remedial Massage Therapist and believes her role is to assist and 'educate' clients to be fully aware of the need to care for ones well-being holistically (mentally, psychologically, physically).
Danielle encourages clients to learn to let go & relax during a therapy session and by doing this knows that they will gain the most from it. She loves meeting new clients and learning about them, understanding them, respecting them and helping them.
Danielle's favourite ways to exercise include dancing, swimming and beach walking whilst listening to the surf. She is not into reality TV at all but loves her music and you will often find her listening to an eclectic mix of Pop, Fusion, Jazz, Blues or Indy!  She also loves loves singing, reading, meditating, watching a movie or catching up with friends.
Danielle wants her clients to know that she loves, believes in and is passionate & genuinely cares about her job and her favourite quote's reflect this :  Never say never…
Life is an adventure, dare it…Life is a journey not a destination…Decision in a heartbeat… Learn from yesterday, live for today…Remember we are all but travellers here…Find happiness in making others happy…Be eager in your desires but humbly patient in the accomplishments…
Her ideal getaway would be travelling along the coast of Australia or flying or cruising to any awesome destination!
Dr Joy Brown (TCM)
Dr of Traditional Chinese Medicine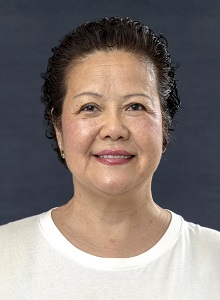 Joy is a lovely addition to our team at Body of Life Health Centre providing Remedial Massage, Acupuncture and Chinese Medicine.  Joy has an absolute passion for helping people and is well experienced and qualified as an AHPRA registered Traditional Chinese Medicine Practitioner and AMT registered Massage Therapist.
Her favourite way to exercise is by line dancing and if that is to her favourite Country music she is really happy.  Joy also has a great sense of humour enjoying Everybody Loves Raymond and loves to relax whilst listening to music and reading.  Her ideal getaway is of course China!
Joy had the excitement of being part of the Olympic Massage team at the Hombebush Aquatic Centre and Olympic Village in the 2000 Olympics and really enjoyed being part of the team.
At Body of Life Health Centre, she prides herself on her professional standards and is particularly interested in Frozen Shoulder, Stress and Anxiety, Back Pain, Headaches, Menopause and Chronic Fatigue.
Frequently Asked Questions
What should I expect on my first visit?
Your massage therapist may require you to fill out a health history form. Afterwards the therapist will begin by asking you general questions to establish what areas you would like worked on, if there are any conditions needing to be addressed, and to determine if massage is appropriate for you. Your massage therapist may perform certain assessments and testing to evaluate your condition and to see if you have any presenting complaints.
It is important to list all health concerns and medications so the therapist can adapt the session to your specific needs without doing any harm. It is also important to list any allergies so the therapist is aware if he/she needs to use a different oil or lotion during the session.
How long will it take?
The average full-body massage treatment lasts approximately one hour. A half-hour appointment only allows time for a partial massage session, such as neck and shoulders, back or legs and feet. Many people prefer a 60 to 90-minute session for optimal relaxation. Always allow relaxation time prior to and after the session.
Do I have to be completely undressed?
You should undress to the level you are comfortable. For a full body massage, most get completely undressed. However, if you will be more comfortable during the session if you leave your underwear on, that's fine. The therapist will work around the clothes you left on as best as he/she can. If removing all your clothes makes you too nervous and unable to relax, then you are not getting the optimal benefit from the session.
Your massage therapist should give you privacy to undress and get comfortable on the table.
Do I have to cover myself with a sheet or towel?
This is known as draping and depends on the therapist and in some cases, the law. The vast majority of therapists will insist on draping. Once you are undressed and on the table under the drape, the therapist will only uncover the part of your body being worked on.
The genitals (women and men) and breasts (women) will not be uncovered. If the therapist is going to work on a woman's abdomen, a second towel or sheet will be used to cover the breasts so the main sheet or towel can be moved to expose the abdomen.
What do I do during my massage treatment?
Make yourself comfortable. If your therapist wants you to adjust your position, she/he will either move you or will ask you to move what is needed. Otherwise, change your position anytime to make yourself more comfortable.
Many people close their eyes and relax completely during a session; others prefer to talk. It's up to you. It is your massage, and whatever feels natural to you is the best way to relax.
Will the massage hurt?
This depends on the type of massage and the depth of the strokes. A light, relaxing massage that doesn't probe very deep into the muscles, shouldn't hurt. With that being said, there is a 'feels good' hurt and an 'ouch, stop it' hurt. A good massage, even a really deep tissue massage, should always stay in the 'feels good' hurt range.
Pain can be an indication that the muscle is possibly injured or inflamed and pressure should be adjusted. Also, pain can cause you to tighten up and negate the relaxing effects of the massage. The most effective and deepest massage always works with your body's natural response, not against it.
How often should I have a massage?
It varies from person to person. If you are just looking for some occasional relaxation, then a session every 3-6 weeks may be fine for you.
However, if you are looking to address a specific condition, then it is recommended to go more frequently at first and then slowly taper down to a maintenance schedule. Sometimes more frequent 30-minute sessions can be effective until your goals are met and a maintenance schedule is in place.
Frequency of sessions should be discussed with your massage therapist after your treatment when he/she has a better hands-on understanding of your particular muscular issues.
Is massage covered by private health insurance?
Yes, if you have Extras cover, however the rebate will depend on the type of cover and the fund you are with. Bring your private health fund card and we can process your health fund payment at the time of consultation with HICAPS.
If I want a really deep massage shouldn't I see a male therapist?
The answer is NO. There is a perception that men give deeper massages than women. This is a myth. While some men do give a deeper massage, there are men who prefer to not work so deep. The same holds true for women.
It is a matter of style, training, and therapist preference. Some therapists prefer not to give really deep sessions while others specialize in this area. If you are looking for a deep massage, it is best to simply ask the therapist if she/he does this type of work. And of course, during your session it is perfectly ok to give the therapist feedback if you would like a lighter/deeper pressure. It's your session!
And remember, massage does not have to hurt to be effective.
Can I talk during my session?
Yes, if you'd like to talk go right ahead. The important thing to remember is that this treatment is all about you relaxing and enjoying the experience. Many therapists discourage talking in hopes that you will relax, let your mind float free and enter a state of massage bliss.
In many instances, people may feel more relaxed starting off talking, and as the massage progresses, enter quiet states of relaxation.
The important issue here is that there are times when you need to speak up. If the therapist is doing anything to make you uncomfortable, you should let her/him know immediately. Also, let him/her know if you get too warm or too cold, if the room is too bright, or if the pressure needs to be changed (lighter or deeper). If something is not working for you – speak up!  It's OK!
How will I feel after my massage treatment?
Most people feel very relaxed. Some experience a significant decrease or freedom from long-term aches and pains. Many feel a little slowed down for a short period and then notice an increase of energy, heightened awareness and increased productivity which can last for days.
If you received a deep massage, you may be slightly sore the next day – much like a good workout at the gym. Sometimes a hot shower, or a soak in the tub can ease this soreness.
After your session you should increase your water intake a bit. Just a glass or two more than normal is usually fine. This helps keep your body's tissues hydrated and healthy.
When should I not get a massage?
There are few conditions which would prevent you from enjoying massage. You should not book a massage if you have a fever, cold/flu, or contagious skin infection. That's it.
There are many other conditions in which your therapist may need to adapt his/her techniques (i.e. arthritis or osteoporosis) or avoid an area completely (i.e. cuts or burns). With some conditions it is a good idea to get an approval from your physician before you receive massage (cancer, certain heart conditions, pregnancy). This doesn't mean you can't get massage. But its always better to err on the side of caution.
Your therapist can advise you about your specific needs.
Body of Life Health Centre is a provider of excellence in health services and education,
servicing the Northern Beaches and North Shore.
We exist to equip you to live your healthiest and best life. We are a multidisciplinary team of health practitioners that provide a range of services to you, your family and the local community.

Book in to see an Osteopath, Chiropractor, Psychologist, Massage Therapist, Acupuncturist or Dr of Chinese Medicine with us because we can support you to make the changes you need to feel your best!
We inspire, equip, educate and support our clients on the Northern Beaches and North Shore to make the changes they need to feel their best!