A Journey to Elcho Island – Part Three – There was a beautiful collaboration between the Balanda (White people), health professionals and Yolngu participants. At the orientation with Tim and Kama Trudgen (the founders of Hope for Health) who have lived on the Island for seven years and speak the main local dialect, Yolngu Mater, they asked how much we thought we knew about Aboriginal culture. We drew a small area in a circle. They said the Indigenous people would answer the same way about the dominant culture, the white people. They then drew a circle joining those two spaces and coloured the area in between.
'That is the space where we need to relate, in the middle. We cannot jump over entirely into their culture, nor should we expect them to jump over entirely into the dominant culture and forget their history, culture, law and traditions. Instead there is a mutual space where we can learn from each other, work together, understand each other. To collaborate and move foreword. There may be misunderstanding but it is an enriching place for everyone who is willing to relate there.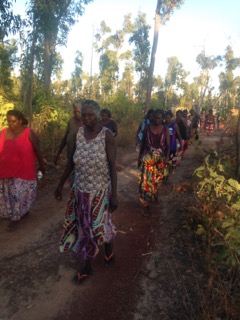 And that was exactly what happened on the retreat. We ate together, we camped together, we sat around the fire together, we walked and exercised together. We provided consultations and imparted our knowledge and education but we were also invited to go hunting together and ate their produce and learnt their ways. We danced together, sang together, cried together, laughed together and were even treated to some of their traditional Yolngu ceremonies, like the hot stone cleansing ceremony on the beach with paper bark, hot stones and a temporary sauna.
We painted together and were taught to weave their traditional pandanus leaves whilst listening to some of their best local artists including Gurrumul, Yothu Yindi, and Saltwater band.
Providing osteopathic treatment to the participants was both challenging and rewarding. For many of the participants, English was their second language, if not their fifth or sixth language. Most of the participants had never had any musculoskeletal treatment and so it was unfamiliar to them. Many of the participants had chronic headaches, neck or back pain, hip or knee pain, gout, shoulder injuries and most of their complaints had been undiagnosed. They enjoyed and thoroughly appreciated the treatment they received and it was nurturing for them as they dealt with the unpleasant withdrawal symptoms from quitting smoking and detoxing from their diet. I was amazed at the results they had in their overall health. They had renewed energy, greater stamina (walking further each day), lost weight, had more normalised blood pressure and glucose levels, had reduced musculoskeletal pain, healthier looking skin and a greater understanding of how to manage some conditions. I truly was amazed at the impact just a couple of weeks had made.
One of the favourite times of each day was after the morning blood pressure and blood sugar level checks I would walk with the women down a path to the beach where we would walk for 45 minutes prior to another 15 minutes of exercise (stretches, Cellercise or strengthening). Everyday we followed the same path and walked the same beach (often picking up beautiful shells to make jewellery in the heat of the afternoon, discovering turtle eggs or having a quick swim in the clear high tide). On the 9th day the women took off in a different direction down a red rocky and sandy track in the bush. I asked one of the women why they had decided to walk a different direction today. She responded, 'A sign of change!'. The culture is rich with symbolism, meaning and great depth. They are a people who worship their creator, fellowship seemingly spontaneously and worship wholeheartedly. They talk of the scriptures and identify with the people of the Bible as their ancestors. There is real connection and great faith. One morning as some of the women read 'The Word for Today', a daily devotion, it was about how the 'family that eats together and communicates, raises well adjusted children.' When the Cincinnati Children's Hospital Medical Centre studied five hundred teenagers, here's what they discovered: children whose parents ate dinner with them five times a week or more were the least likely to be on drugs, to be depressed or to be in trouble with the law. They were also more likely to do well in school, and be surrounded by a supportive circle of friends.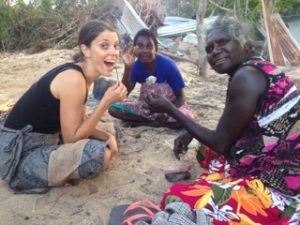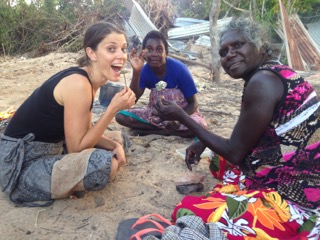 The women sat and discussed the issues they faced in the main township, Galiwinku, with vandalism, boredom, children disrespecting their parents and walking the streets at night. Gambling was also a growing concern and becoming strongly embedded part of their culture and social activity. They discussed how as a community they needed to get back to eating healthy meals together and teach their children by leading from example. Many of the participants were elders of their families and they played an important role in providing the moral compass for their family. They saw it as their role to teach the younger generations their traditional culture and history and they started to discuss how they could help their families and the community at large by leading by example.
I feel like I have gained so much. I have learnt about their bush medicine, an appreciation of the land and its natural seasons, a desire for greater authentic community and for sustainable living.
I want to love more and connect more deeply with the people close to me. I want to be more present without the distractions of mobile devices, the interest and the never-ending list of things 'I should do'. I want to break down barriers that are unnecessary when there is an opportunity to help further. I want to inspire, motivate and support people who are willing and ready to make lifestyle changes. I want to see the tide change with preventable diseases. I want to walk the walk, not just talk the talk when it comes to healthy eating, sustainable living and contributing to my family and society.
I want to nurture and support people rather than point the finger and place blame. We all have obstacles and barriers to change. Our greatest challenge can be finding the courage to face them and being willing to take the first step. I remember when I told many people about what I was going to be involved in at the retreat with an Indigenous population and being met with some cynicism and scepticism. Would two weeks really be enough to see a change? Would these people really follow through? Would they see long lasting results and would it be possible to turn things around?
But now I am convinced it is possible. They were willing to take the first step, to initiate the change, to quit smoking, change their diet, start exercising, learn a new way. They are motivated. They are now inspired. They feel their bodies are different. One lady said 'Now I feel my body rejoicing'. The tide is changing. Now there is hope. There is still much sadness as many of the participants have lost family members far too young – husbands, children, brothers and sisters. Others have family members in Darwin hospital on dialysis and they know for them it is probably too late and their shortened life could have been prevented. But for these thirty participants and the families and communities they represent, there is now Hope. Hope for Health.
Article written by Dr Melanie Woollam (Osteopath)
For more information about Hope for Health, go to www.HopeforHealth.com.au