I am now on the flight home from Darwin as I write of my experiences on Elcho Island, East Arnhem Land for the first Indigenous 'Hope for Health' Retreat (August 27th – September 10th 2016). Some weeks just come and go without any real significant change, growth or experiences. Other weeks can change your life. The last two and a half weeks on Elcho Island have been transformative for myself as well as the participants who attended the retreat.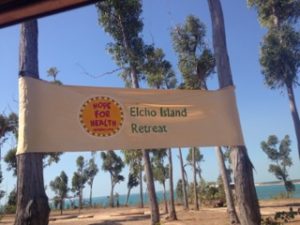 There were many tears as I flew out of Galiwinku, the main township of Elcho Island and flew over the scattered islands known as the Wessel Group. There were tears of sadness as I left the people I had come to love, care for and respect. There were tears of relief that the impossible had been made possible, that a health retreat in remote Arnhem Land with the Yolngu people had actually taken place. There were tears of joy as I thought of the lives that had been so radically transformed on the retreat. There were tears of great longing and excitement about seeing my own family again soon.
I knew that there were chronic health issues within the Indigenous population of Australia, as there are in other Indigenous populations around the world. In fact, Indigenous Australians are 5 times as likely as non-Indigenous Australians to die from endocrine, nutritional and metabolic conditions, such as diabetes. I knew there was a much shorter life expectancy for the Indigenous compared with the non-Indigenous population. I knew that young male suicide rates were amongst the highest in the world. I had studied the health inequality between Indigenous and non-Indigenous populations and the poor access to health care services in remote communities.
But I had never felt connected to the Indigenous people, I had never seen how I could be part of the solution, how I could help. I am incredibly grateful for the opportunity to have been welcomed and embraced by such an ancient civilisation. By a people group who have still managed to hold onto much of their history, cultural ways and many of their traditions.
Over the period of the retreat the Yolngu people came to better understand their bodies as living organisms, like their land and their sea is a living organism. If we pollute, throw waste or mistreat the land it will no longer produce Ngatha (food) to eat. Just like our own bodies, if we do not provide Manymak Ngatha (good food), we will not refuel, regenerate and heal our bodies.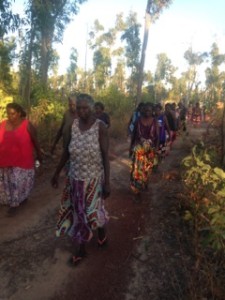 There was a naïve awareness, a knowledge gap, about the reason for chronic health issues and the great number of people dying. The Yolngu thought balanda (white man's food) was healthy food as balanda lived longer and were generally healthier. To them balanda food was the food they were given as rations, starting with the missionaries in the 1940's. Flour, sugar, golden syrup…  Back then the women saw their babies put on weight with the introduction of these foods and thought their children were growing big and strong. So they thought this Balanda food must be what made Balanda people grow big and strong. Many people thought that if they fed their children only Balanda food they would be even 'fitter, bigger and stronger' (Trudgen, 2000). This confusion over whether their traditional food was better for them or the newly introduced Balanda food became increasingly problematic with the puzzling messages they received by watching advertisements on TV. Many of the Yolngu thought Coke and other soft drinks were good for them as they saw the healthy kids do many healthy things in the advertisements or 'Coca Cola' for example was promoted as being 'the real thing'.
Many of the food the Yolngu people had been introduced to had become staple foods within their diet and entwined in their culture. Damper made with flour, white sugar and syrup was for many of the participants a daily snack alongside other processed foods that feature heavily in our own pantries – weetbix, cereals, white bread, pasta, two minute noodles, bottled sauces and even other products promoted as 'healthy options' like Spam in the local supermarket.
Drinks were also highly laden with sugar. Soft drinks, fruit juices, tea with large amounts of sugar and milk. Fortunately, alcohol is not an issue on the Island as Elcho Island is both a petrol and alcohol free community. Smoking on the other hand was extremely ingrained in their culture with the majority of adults smoking. Many of the participants smoked a packet of cigarettes a day, a habit of thirty years.
In order to come to the retreat, the participants had agreed to quit smoking, eat only the food provided at the retreat and participate in all the consultations provided.
The retreat was held at Dharrwarnur, a homeland located a 45 minute drive from the main township of Galiwinku. It was a dusty red corrugated or at times sandy road, very hard wearing on the four-wheel drive cars. The traditional land owners had a desire for the land to be used for camps and retreats where people would be spiritually renewed, a place where they would experience healing and find solace with God.
It was the perfect setting, with only a few buildings, much of the facilities needed to be built. Showers, additional toilets, clinic rooms, an outdoor kitchen, lights constructed and multiple tents erected for the participants, professionals and volunteers.
The osteopathy rooms (which I was involved with) were set on the edge of a 10-metre-high embankment overlooking the beach. They were made from wood, hessian, wire, chicken wire and branches with leaves to provide shade from the heat of the day. We had bamboo mats as flooring on the red dust, portable tables and set about creating our own curtains, shelving units out of crates and decorated the entrance with fairy lights. There was a similar set up on the beach for the massage therapists and we often joked about the money people would pay to have a treatment at a location such as this.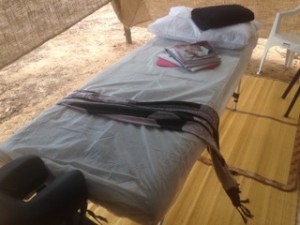 As we treated the participants during the day we would watch the tide changing, the sun rise high in the sky and be relieved by the refreshing ocean breeze. It really was an exceptional view! The heat was very real and tangible, the dust was everywhere and the breeze off the sea mid morning into the evening brought a welcomed relief each day.
There were enormous logistical challenges to holding the retreat and even after we arrived we were advised there would be a funeral starting the planned first day of the retreat which would delay things and also meant almost 10 of the 30 participants would be unlikely to attend due to their commitments at the funeral. There was a great rush to attempt to bring other willing participants on board an even locating these people proved to be challenging at times.
The funerals meant some participants had to come and go from the retreat as they had involvement in the funeral proceedings over the week and each time there was a concern that they would not follow through and at worse not return. But to our great delight and surprise, they returned each time.
Their desire for change was strong. They were sick of seeing their loved ones dying. One Yolngu woman told me that in years gone by there might have been two deaths amongst their people on the Island each year. But now there were at least two deaths a month, there was a backlog of funerals waiting to happen. Even during our time at the retreat there was news of another two deaths within their community. They were a people in great mourning, grief stricken with a sense of hopelessness.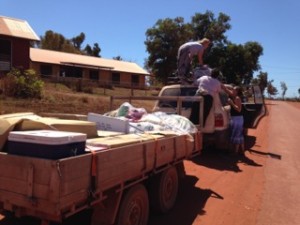 Many participants shared stories of their loved ones going off to Darwin for renal dialysis due to end stage kidney disease (as a result of uncontrolled diabetes, heart disease and liver disease) and returning in a coffin. They viewed that trip to Darwin as a death sentence. Their family often unable to visit them due to the high cost of travelling to and from Darwin. Often the sick would die alone, away from their family, their community and their land. Others shared their stories of their children, as young as myself (early 30's) dying from uncontrolled diabetes. It was heartbreaking and devastating to hear the sorrow and grief caused by preventable lifestyle diseases.
To be continued…
Article written by Dr Melanie Woollam (Osteopath)
References:
ABS (Australian Bureau of Statistics) 2013a. Births, Australia 2012. ABS cat. no. 3301.0. Canberra: ABS.
Trudgen, R. (2000). Why Warriors lie down and die. Why Warriors, Nhulunbuy.