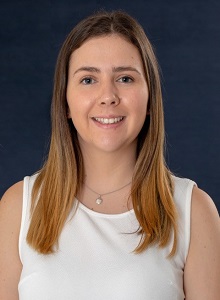 Erin is a fantastic addition to our Body of Life team as an Osteopath and we are fortunate she has crossed the border to NSW from Victoria!  Erin gains great satisfaction from impacting another person's life in a positive way and she does this with every client she meets! You will instantly feel at ease, supported and informed with Erin.
Erin provides a thorough assessment and 'hands-on treatment' as well as educating you regarding your condition. Erin is always looking for how to prevent the recurrence of an injury through changing work ergonomics or by providing an individualised exercise program. She always aims for you to regain confidence in performing your day to day activities as soon as possible, whether it be gardening, playing with your children (or grandchildren) or returning to your favourite sport.
Erin keeps fit and healthy by going to the gym herself and participating in group classes like Body Pump and high-intensity interval training (HIIT).  She also enjoys taking her very energetic dalmatian for a walk!  In her downtime, Erin loves spending time with family and friends, discovering a great new coffee shop or watching an episode of Grey's Anatomy.
Her favourite quote is "It always seems impossible until it's done".  Nelson Mandela